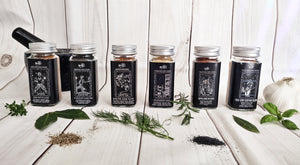 Occultist Collection Vol. II
This collection includes our second series of dry rubs and spice blends.
Featuring Santeria; our Cuban inspired blend with whole and ground annatto seed, coconut palm sugar, like powder, cayenne, garlic onion, black pepper and salt.
Shadow Man is our blackened blend, a special handcrafted blend unlike anything you've experienced before, black lava sea salt, charcoal powder, celery seed, fennel seed, mace, garlic, onion, mustard, espresso, coriander and black pepper.
Unholy Cow; our Montreal Seasoning features minced garlic flakes, coarse sea salt, medium grind cracked black pepper, smoked paprika, tangerine peel, and dill seed. 
Bone Dust is our Seasoned Salt, featuring a mix of fine sea salt, organic sugar (NOT CANE) garlic, onion, paprika, and tumeric powder for it's anti inflammatory properties and flavor.
Moth Man; our sweet chili and coffee rub featuring a blonde roast freshly ground coffee bean, sweet chili, smoked paprika, cumin, fine sea salt, and molasses crystals.
Siren; our Old-Time Seafood blend features warm spices including ginger, nutmeg, cinnamon, allspice, cardamom, as well as galangal powder; crushed bay leaves, cayenne, smoked paprika, mustard, celery seed, black pepper, and fine sea salt.