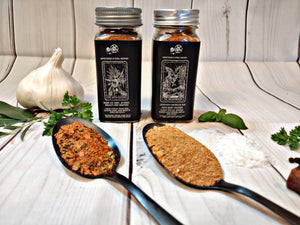 Pyromancer Set
If you love barbecue, charcoal, propane, or smoking your meats, this set of blends is ideal for you! 
Witch Doctor is our Cajun inspired blend, complete with a smokey paprika, chili, parsley flakes, and our hidden gem, molasses crystals for an unbeatable flavor. Created with the perfect smoked brisket in mind. 
Necromancer is our signature smokey sweet blend, ideal for smoked meats and barbecue (we use it on pork shoulders and ribs religiously) complete with a savory base of garlic and onion, finished with notes of honey and molasses crystals for the perfect bark on any smoked meats!